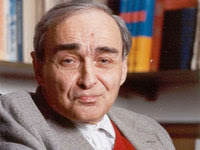 What a wonderful read Baruch Kimmerling's memoir is! Marginal at the Center: The Life Story of a Public Sociologist takes us from Kimmerling's childhood in Romania, including his dramatic escape in 1944 on a horse-drawn carriage dodging a roundup of Jews in his hometown, to his final months in Jerusalem. His account, expertly translated by his wife Diana, is not a chronological story but one in which personal vignettes serve as launching pads for explorations of Israeli society and academia.
I need to interject here that I am no impartial reader. Kimmerling and I were friends for 30 years and collaborated on two books together. If a friendship survives a book collaboration, let alone two, it has to be a very close one, and ours was despite the 10,000 miles between us. I discovered a lot about Baruch as drafts flew back and forth between Seattle and Jerusalem on the wings of one of the earliest email systems, Bitnet. Most prominently, his warmth and humor were laced through our years of work together.
For a man who could move only slowly and laboriously because of his handicap, he managed to send me chapter drafts at breakneck speed and complained endlessly at my deliberate pace of writing (my phrase not his; his characterization of my speed was less flattering). He could be prickly and on-guard against those he felt were attacking his views.
Read more